Back to all posts
Posted on
March 13, Music Mentor - Chad Melchert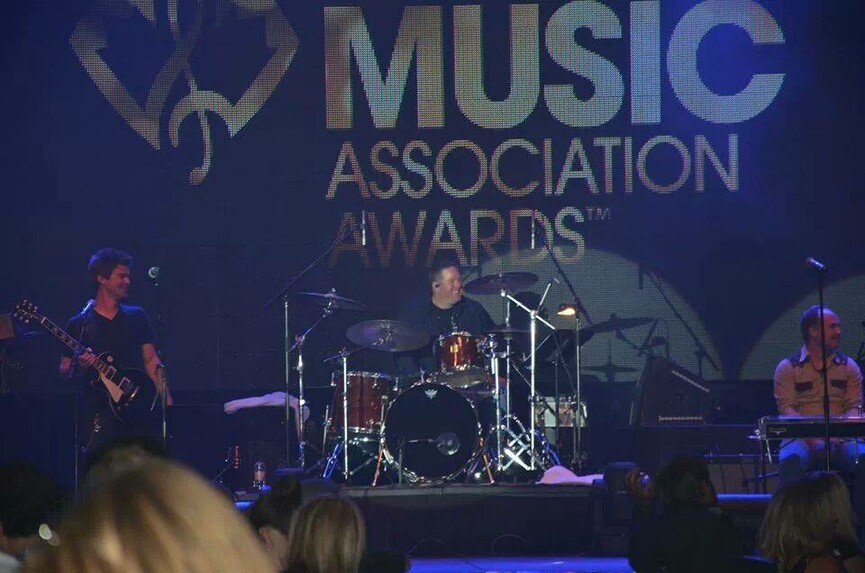 Our next Music Mentor will be Chad Melchert who will be coming to SCS on March 13 to mentor our students on percussion.  He is Gord Bamford's drummer and tours all over the world with him. They have just come off a Canadian tour with Reba MacEntire.   (Reba's guitar player Jeff King played on our last CD).  I met up with Chad and the boys when we were all in Nashville a few years ago.  He was playing with Adam Gregory at the time. I am also hoping that Gord's back up singer/guitar player Mark Puffer can come in, too.  He can take a group and do harmonies, and Chad can work on percussion.  
For those of you who are not familiar with Gord Bamford, he is the current number 1 male vocalist in country music in Canada and has brought home many Canadian Country Music Awards. 

Here's the dibs on Gord:
Awards Pave Gord Bamford's US Radio Launch
CMA Bestows International Honor On CCMA Male Artist Of The Year
(EVERYWHERE, North America) Fresh off dual CCMA Awards and the CMA's biggest international honor, Canadian country superstar Gord Bamford is set to launch at stateside country radio. Through the end of the year, a radio promotion campaign will roll out with visits to top stations in major markets.
Top U.S. program directors, stations and their listeners will soon learn why Bamford is one of country's biggest names in Canada. They'll also see why Gord's south of the border touring forays have been winning over audiences and earning rave reviews from U.S. media. In short, Gord Bamford is taking his 2014 U.S. touring success to the next level.
Canadian fans, media and music industry surely aren't surprised by Bamford's growing appeal, as the Canadian Country Music Association's 2014 Male Artist of the Year has been one of the most prominent artists in any genre in his native land. In addition to the Male crown, Gord also received the CCMA for Single of the Year – "When Your Lips Are So Close."
Recognition isn't limited just to Canada, however, as the Nashville-based Country Music Association bestowed its Global Country Artist Award on Bamford in September. The annual honor is the highest award given by CMA to an artist originally signed outside the U.S.
Earlier this year, stateside touring stops had local media commenting on the amazingly polished "newcomer" to the country scene. Major press hits included the Lansing State Journal, the Denver Post and a video interview with Taste Of Country. The Phoenix New Times raved that Bamford "put on one hell of a show."
Gord Bamford has won an astounding 19 CCMA awards since being named Top New Male in 2008, when he was actually a newcomer. His current Canadian release Country Junkie debuted at No. 1 on the country album chart, spurred by the gold-certified No. 1 smash "When Your Lips Are So Close." Country Junkie was nominated for Canadian Country Album of the Year at the Juno
Gord Bamford (center) accepts the 2013 CMA Global Artist Award from CMA Board members Jeff Walker (l) and Ted Ellis.
Awards. But Bamford's philanthropic efforts may be even more dear to him. The Seventh Annual Gord Bamford Charity Golf Classic raised more than $500,000 this year, bringing his foundation's lifetime total to just over $2 million. That money is used to support a wide variety of worthy children's charities.