Back to all posts
Posted on
Science In Motion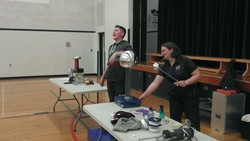 The students at Sangudo Community School were amazed by Bernadette with her Science in Motion Presentations!  From "Chilling Out" with the Kindergartens to a "Electrifying" school wide presentation on on Electricity, all the students were astounded. 
Thanks to our wonderful Parent Association of the Sangudo Storm for their generous contribution to ensure the students were able to receive this fabulous two day presentation.
Please check out pictures in the Gallery.