Back to all posts
Posted on
Alberta Education Assurance Survey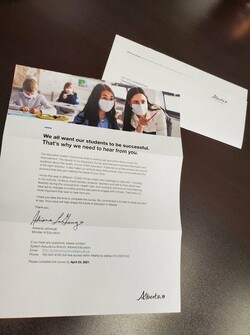 Deadline extended to April 28, 2021.
Important feedback required! Did you receive your Assurance Survey from Alberta Education in the mail? This survey is not in relation to the draft curriculum, but is an important survey about your child's education and school.
Alberta parents will receive this letter and a random access code to complete the survey online. Feedback received helps inform planning for the upcoming school year. We appreciate your time completing the survey and helping to inform the future of education in our communities!
Note:  In smaller schools, surveys are being distributed to all parents of students in Grades 4 and above.