Back to all posts
Posted on
UPDATED Daily Health Checklist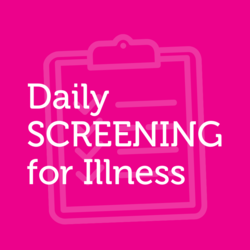 Parents, THANK YOU for your support and diligence in screening for illness daily and keeping children home when they are sick. Your efforts continue to help ensure healthy learning environments at school.
UPDATE to Daily Health Checklist: On Monday, Sept 20, the provincial government updated the Daily Health Checklist for adults and children.
The checklist now states that household contacts of a case of COVID-19 should stay home for 14 days from the last exposure if they are NOT fully immunized.
If they ARE fully immunized, they should continue with the checklist and stay home if they have any symptoms.
This is for both adults & children under 18. View/download the checklist.